The latest updates in
pathophysiology and
treatment of psoriasis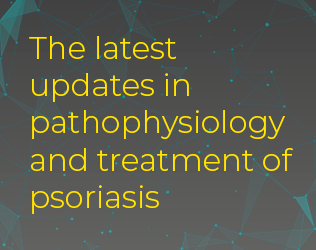 Psoriasis is an inflammatory skin disease that affects 2-3% of the world's population and is characterised by red scaly spots. The exact causes leading to the development of psoriasis are not known yet, but some factors have been shown to play an important role, such as genetic predisposition or the presence of other diseases (comorbidities) or risk factors.
Various treatments are available with their pros and cons, but there is not yet a definite cure, meaning that psoriasis patients require a lifelong treatment, with all the psychological consequences that can come from such a condition.
For these and many other reasons, psoriasis has always occupied a very important spot in EADV's scientific programmes, and this year is no exception.
Among the several experts present at the event, Dr. Jonathan Barker (London, United Kingdom) will speak about the latest advances in the understanding of the pathogenesis of psoriasis and its treatment and the important role played by genetics. He will also focus on how genetics can lay the foundations for a change in the treatment paradigms for certain forms of psoriasis and how it may provide a useful biomarker to aid treatment decisions.
Psoriasis is increasingly being recognised as a systemic inflammatory disease, involving other tissues beyond the skin, such as joint, liver, adipose tissue and vessels. Dr. Paolo Gisondi (Verona, Italy) will describe the genetic background and the multiple inflammatory mechanisms shared by psoriasis and its frequently associated comorbidities.
The latest advances in the understanding of the key immune mechanisms in the pathogenesis of psoriasis have translated into a plethora of cytokine-targeted biologics. But how to accurately select the best ones for individual patients? Dr. Christopher Griffiths (Manchester, United Kingdom) will shed light on the importance of clinical experience and the development of medicine algorithms, as well as the value of real world evidence derived from pharmacovigilance registries and a drive to treat early in the disease course.
Recent News
Admin22
This debrief presents congress statistics and information on the growing momentum on social media and with the press. Furthermore, courtesy of the intrepid Congress Roving Reporters it also provides a bumper edition on the day's hot sessions.
Admin22
Being a disease that affects 2-3% of the world's population, psoriasis will play an important role in the EADV's scientific programme.
Admin
The Health Care Provider Scholarship, sponsored by UCB, supports the attendance to the 29th Virtual Congress of the EADV for Specialists or Trainees in Dermatology and/or Venereology, along with Researchers practising and/or researching the following diseases (PsO, PsA, HS, and/or AD).