From classical to novel Psoriasis treatment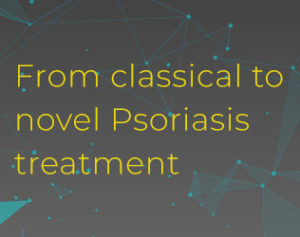 Being a disease that affects 2-3% of the world's population, psoriasis will play an important role in the EADV's scientific programme.
In addition to the several different aspects of psoriasis that will be covered, such as genetics and pathophysiology, different sessions will also focus on the most promising therapies, going from classical treatments to small molecules.
Despite the revolutionary changes in the therapy of psoriasis during the last decade, classical anti-psoriatic drugs, such as methotrexate, still constitute the fundamental treatment modality for most patients. There has been several recent developments that may influence the daily use of these agents and, with easier access to biologicals and biosimilars, several questions may emerge regarding the classical anti-psoriatic drugs: why, when and which one should or should not be used alone or in combination?
Another treatment that is already seen as the 'older' generation of innovative drugs for psoriasis, namely TNF inhibitors such as adalimumab and inflixumab, will be reviewed in detail. Among the topics that will be discussed we cover their mechanism of action and their long-term efficacy and safety. We will also shed light on the evolving nature of biosimilars, the off-label indications and the rational therapeutic drug monitoring.
On the other hand, small molecules are low molecular weight inhibitors that are emerging as novel therapeutic options in inflammatory skin diseases. These drugs represent a valid alternative to either conventional or targeted, antibody-based treatments. Several small molecule inhibitors, mostly of the Janus kinases (JAKs) family, are being investigated, and many clinical trials are evaluating their efficacy and showing promising results in inflammatory skin diseases, including psoriasis.
The latest advances in the understanding of the key immune mechanisms in the pathogenesis of psoriasis have thus translated into a plethora of cytokine-targeted biologics. But how to accurately select the best ones for individual patients? A specific talk in the "Spotlights" session will shed light on the importance of clinical experience and the development of medical algorithms, as well as the value of real world evidence derived from pharmacovigilance registries and a drive to treat early on in the disease course.
Recent News
Admin22
This debrief presents congress statistics and information on the growing momentum on social media and with the press. Furthermore, courtesy of the intrepid Congress Roving Reporters it also provides a bumper edition on the day's hot sessions.
Admin22
Being a disease that affects 2-3% of the world's population, psoriasis will play an important role in the EADV's scientific programme.
Admin
The Health Care Provider Scholarship, sponsored by UCB, supports the attendance to the 29th Virtual Congress of the EADV for Specialists or Trainees in Dermatology and/or Venereology, along with Researchers practising and/or researching the following diseases (PsO, PsA, HS, and/or AD).