With great enthusiasm the Nurse Association Working Group (NAWG) is glad to invite all the participants to the Nurse Day, a special occasion for the EADV to join the WHO in celebrating the 2020 as the year of the nurse and midwife.
Since several years, the Academy is engaging with nurses to develop constructive collaborations and initiatives aimed at increasing the presence of nurses in the EADV landscape and improving exchange between specialists and their closest health professionals.
The Nurse Day will provide multiple benefits both to physicians and nurses in attendance, as it aims to improve interprofessional collaboration in dermatology, extend the span of care and enhance effective communication between the parts.
An exciting programme will take place on Saturday 31 October at the Virtual EADV Nurse Day and will be presented by a mixed faculty of dermatologists and nurses.
The morning session is dedicated to topics based on nurse-leadership, global health, collaborative and multidisciplinary engagement where nurses will present how the specialist role has developed, provide an overview on different European realities, inform what have been realised so far or want to achieve in the coming future.
The afternoon programme "Doctor, I want to become pregnant. What about my skin disease, my medication and my baby?" will host involving talks and contributions from the two EADV Task Forces on Skin Diseases in Pregnancy and Paediatrics.
Additional discussion will take place in the Nurse Virtual Meeting Room before the morning and afternoon sessions.
The Live Nurse Virtual Meeting Room with a free open discussion will take place during these times: 12.15-12.45 and 16.45-17.15 (CET)
All dermatology nurses are welcome to participate and can benefit of a special Nurse fee of 100 EUR that will grant full access to the whole congress programme (proof of status requested).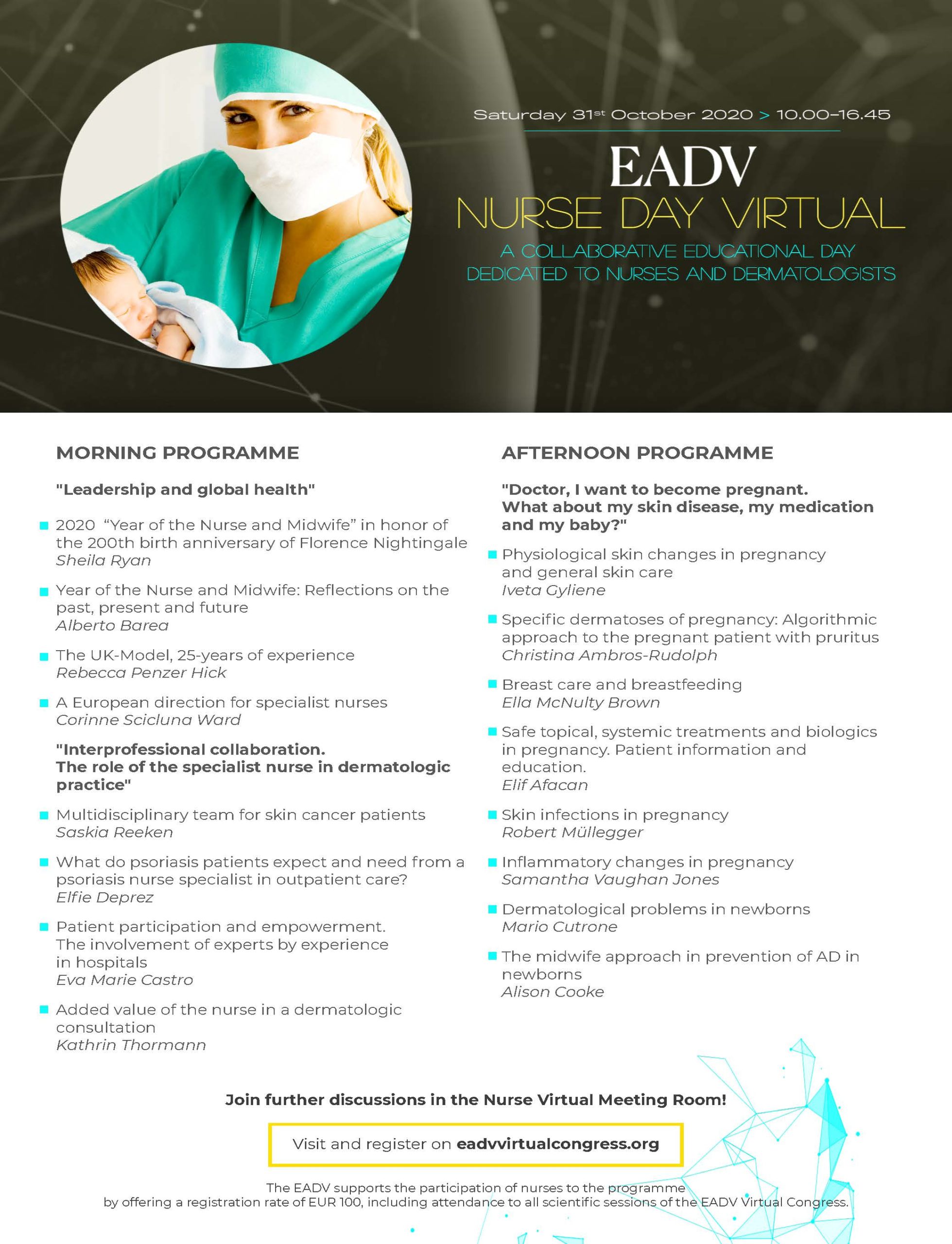 KEEP IN TOUCH
Stay informed about the latest EADV information, including Congresses, Education, JEADV, Membership and EADV News.